Notes
This is a short guide on how to install MinGW and MSYS using the latest stable. This guide has been updated on 21/12/2011
Requirements
Installing the MinGW and Msys
Run mingw-get-inst-20111118.exe
Choose "Download latest repository catalogues"

Accept the license agreement
Use the default folder (C:\MinGW)
When asked to select the components, choose: C Compiler, C++ Compiler, MSYS Basic System and MinGW Developer Toolkit.

Add C:\MinGW\bin;C:\MinGW\msys\1.0\bin; to your PATH system variables (at the beginning).
Done.
Check if your PATH system variables look something like this: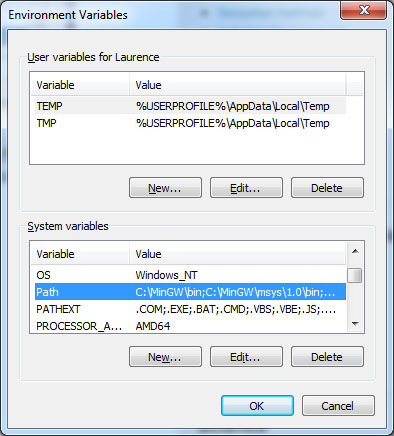 Install the IDE
Install the JRE with the default settings
To install eclipse, unzip the content to C:\Program Files\eclipse
Create a shortcut to Eclipse.exe on the desktop
Done.
Creating a HelloWorld Project
Open up Eclipse
File > New > Project
Select C/C++ > C++ Project
Click on Next
Change project name to "Hello World"
Click on Hello World C++ Project (Toolchain should show MinGW GCC)
Click Finish
On the left side, right click on your project (in the Project Explorer)
Choose Build Project
Run > Run (or Run > Debug)
The Console (at the bottom) should show !!!Hello World!!!
You're all set.
Optional packages to install (use the MinGW console)
mingw-get install msys-wget
mingw-get install msys-zip
mingw-get install msys-unzip
Additional resources