This application is designed to be a collaborative activity to teach undergraduate students about phylogeny and to prevent misconceptions about evolution. The system guides the students through a set of steps required to construct a phylogenetic tree based on morphological and DNA sequencedata.
More information can be found at the Harvard SEAS:
> Press release
Project details
Project name: PhyloGenie
Project members: Bertrand Schneider, Laurence Muller, Megan Strait, Sarah Elfenbein, Orit Shaer, Chia Shen
Published paper(s): Engaging Students in Collaborative 'Tree-Thinking' through Tabletop Techniques, ACM CHI 2012
Employer: Harvard University, (SEAS), SDR Lab / Wellesley College
Date: 2010
Used technologies: C#/WPF (MS Surface SDK)
Pictures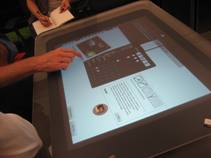 Videos
CHI Demo video (final version of Phylogenie):
Prototyping the UI and UX:
Below is some footage of the prototyping that I did for Phylogenie. Experimenting with different styles of interaction (Object/Touch/Gestures) to construct, modify and erase phylogenetic trees.
Objects only:

Touch/Objects:

Special objects for branching/traits:

Implementing the prototype into the user task: