Last weekend I worked on a new flash application which is called the 'Multitouch Puzzle Game'. This game is a tile based puzzle game which let users solve the puzzle by mouse or solve the puzzle with multitouch (collaborative puzzle solving?). It features four levels of difficulty and contains four photos. You can find the download link below.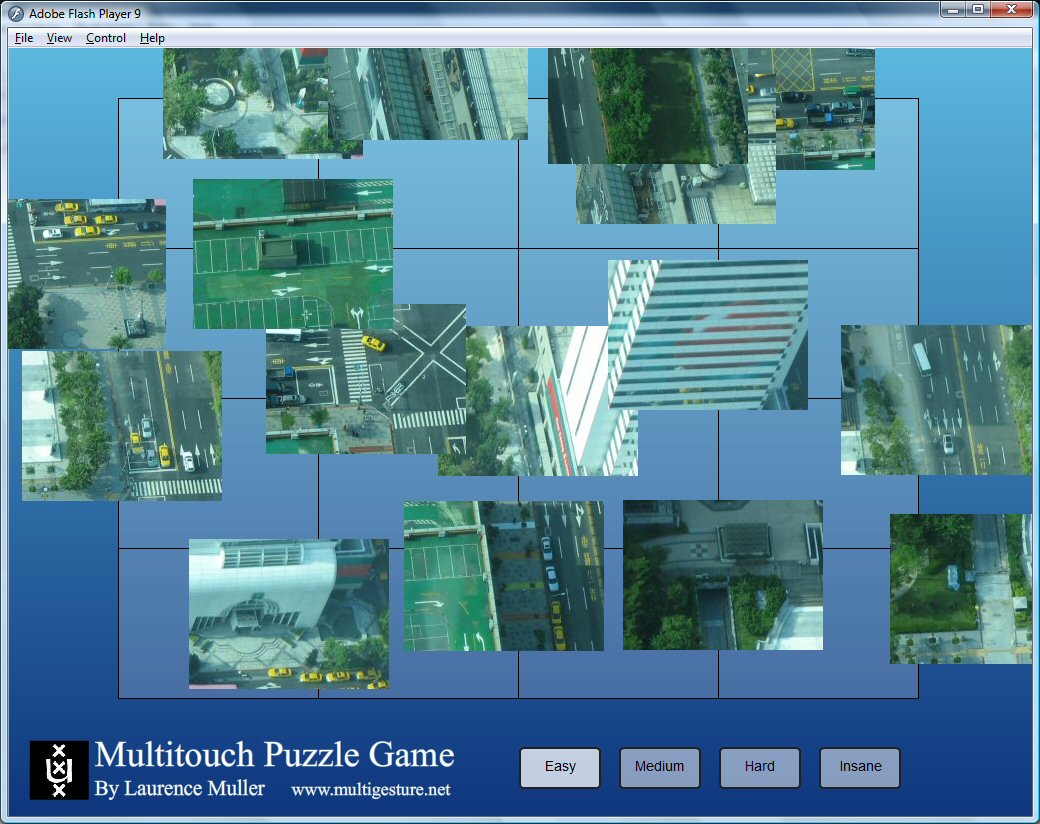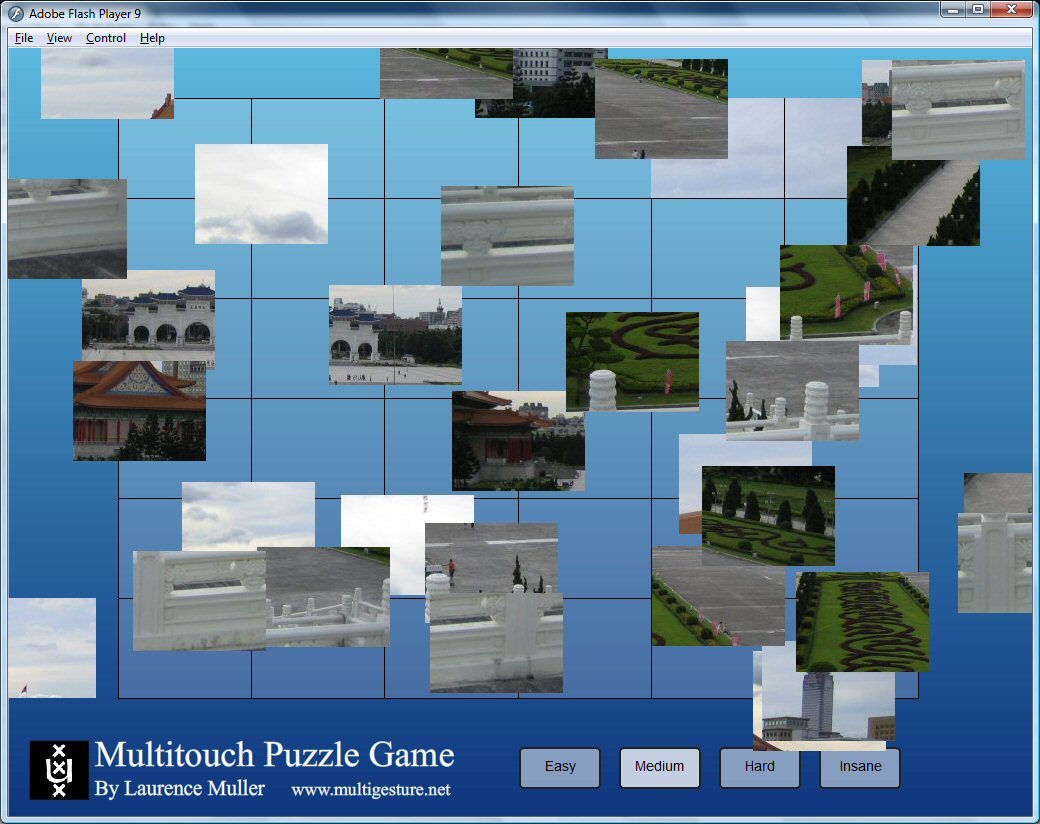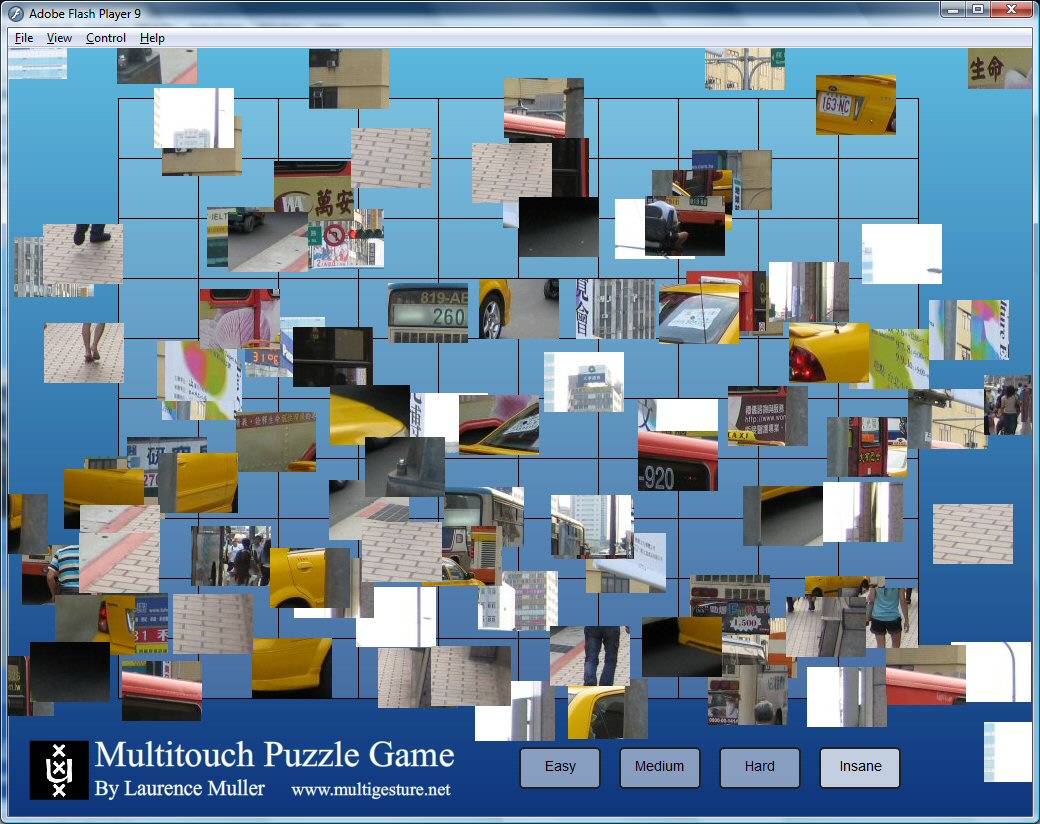 At the beginning of september I got hold of a short-throwing-distance beamer (digital projector) of 3M (type 3M DMS 700). The specifications looked pretty impressive, and we could finally get rid of the mirror… However during testing the hardware with our new firewire camera (less latency than the Philips spc900nc) we noticed that there was a (noticable) delay between touch and display on the table surface.
Comparing the input of the firewire camera on our CRT showed barely any latency, so perhaps the issue was on the beamer…
We decided to create a latency measurement tool based on this paper. The application moves a bar at a fixed speed along 60 positions in the screen. The screen refreshes 60 times per second (the beamer runs at 60Hz max). To measure the difference it is required to take a photo of the CRT display and the result of the beamer in one shot. The difference in position (of the bar) can be used to calculate the latency.
Our test results:
3M DMS 700 (1024 x 768) – about 100ms
Canon LV-S1E (800 x 600) – less than 16.67ms
So it seems like our simple Canon office beamer has barely any latency compared to our 3M short throw beamer. If this is an issue depends on the purpose of your multitouch table. If you are planning to use it on non time related task such as a simple photo application or the puzzle application the 3M latency might not be a problem at all. If you are planning to measure the performance of multi-touch table devices this might be something to think about.
Because I could not find much information about latency of beamers in general (as far as I know, no manufacturer specifies this in the manual) I would like to ask if multi-touch enthausiasts could measure there own beamers. Below at the download section I have included the measurement tool.
All you will need is a camera which is capable of setting the shutterspeed manual (it needs to be 1/60 sec). Please post your results in the comments sections. Don't forget to include a nice photo and some details about the used beamer (brand, type, native resolution, throwingdistance, etc…).
Note: you will need to turn on vsync in your display controlpanel.
Hopefully we will be able to make a list of recommended beamers here 🙂 .
*update today@23:40* My multi-touch developer friend Pawel 'solydzajs' Solyga just submitted an update to the BMLT application.
New version (v0.2) with additional features:
– command-line parameters instead of static values in main.cpp (which
requires recompiling)
– print usage when wrong number of command-line parameters
– makefile for Mac OS X (tested, works nice)
Downloads:
Multitouch Puzzle Game
Beamer Latency Measurement Tool v0.2 – windows binaries
Beamer Latency Measurement Tool v0.2 Sourcecode – linux/mac os X users should build the tool manual, Makefiles are included
Discussion at nuigroup forums link