It has been a while since my last blog post, so I will try to catch up a bit.
Earlier this year, Chris Moore invited me to join the Interactive Displays Conference 2009 (IDC) in San Jose, CA, USA. The IDC is an event for hardware manufacturers, developers, researchers and end user of interactive display technologies. The event was organized by pira-international and supported with great keynote speakers: Jeff Han from Perceptive Pixels and Andy Wilson & Steven Bathiche from Microsoft Research.
The NUI Group was also present with a booth to demonstrate some of the current activities from the community. Key members (Seth Sandler, Chris Moore, Alex Popovich, Jimmy Hertz and Thomas Hansen (Author of PyMT) ) from the NUI Group community and NUI INC. where present to demonstrate their hardware and software achievements.
Jimmy Hertz presented his amazing and huge H2O AquaTouch Water Screen at the booth. Alex Popovich demonstrated his multi-camera solution based on custom drivers created for the PS3.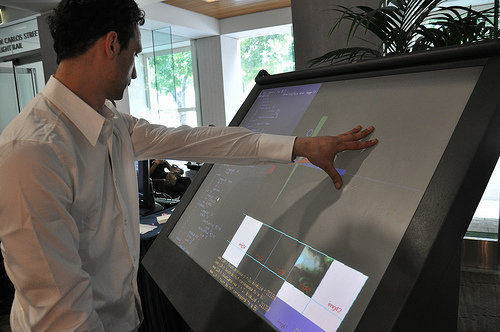 Jimmy setting up his touch screen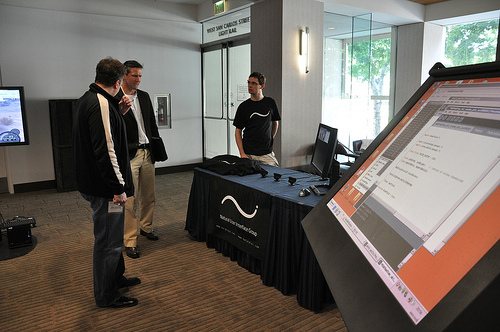 The NUI Group booth (with free NUI Group T-shirts!)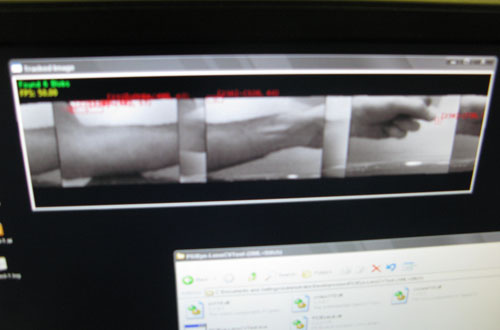 Alex's multicamera solution with 3 PS3 cameras
A nice summary of the conference can found on the NUI Group blog. More photos can be found on the Flickr streams from Joan Woodbrey and Thomas Hansen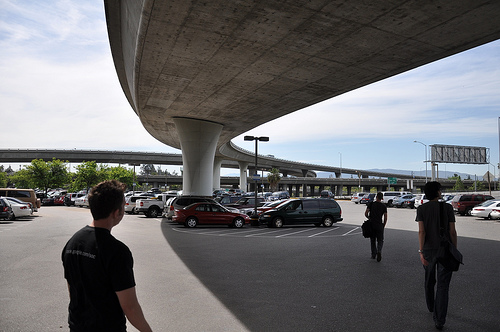 Seth, Justin and me heading to the car.
More photos are available here: Thomas Hansen on Flickr
I would like to thank Chris and the other present NUI Group members for this amazing event, I really enjoyed my stay in San Jose and San Francisco.